National Vegetarian Week will be taking place from the 16th of May through to the 22nd of May this year, so here at HQ, we've put together a special guide with all our favourite veggie meals! Whether you choose to swap out your meals for the whole week or just a day, we have something for everyone.
About 1.2 million people across the UK are already enjoying a vegetarian lifestyle. Statistics from 2010 show that this trend is growing, especially amongst the young who want to reduce their impact on their environment.
National Vegetarian week can help you discuss the decisions that people make every day to change their diets. Whether it reflects a cultural belief or even a moral one, you can explore healthy eating and proactive solutions for more veg in any child's diet!
Do good. Eat better.
Becoming a vegetarian or reducing your meat intake can drastically cut your carbon footprint. Swapping out a meal with meat for one without is just the platform you need to begin discussing the nutritional benefits of different foods. Explore colours and textures in class or at home by introducing children to new or different vegetables and fruits.
Instead of the doom and gloom of climate change predictions, going veggie offers a proactive solution encouraging children to learn more about the natural world. And the more they learn, the more they'll understand about respecting their environment as they grow up.
Introduce veggie food through meals! Instead of just using component vegetables, grains, and pulses, offer them interactive images and options for meals they can swap their regular meals for. How about swapping out that fish and chips for sweet potato fries and a portobello mushroom? Or a beef burger for a halloumi burger?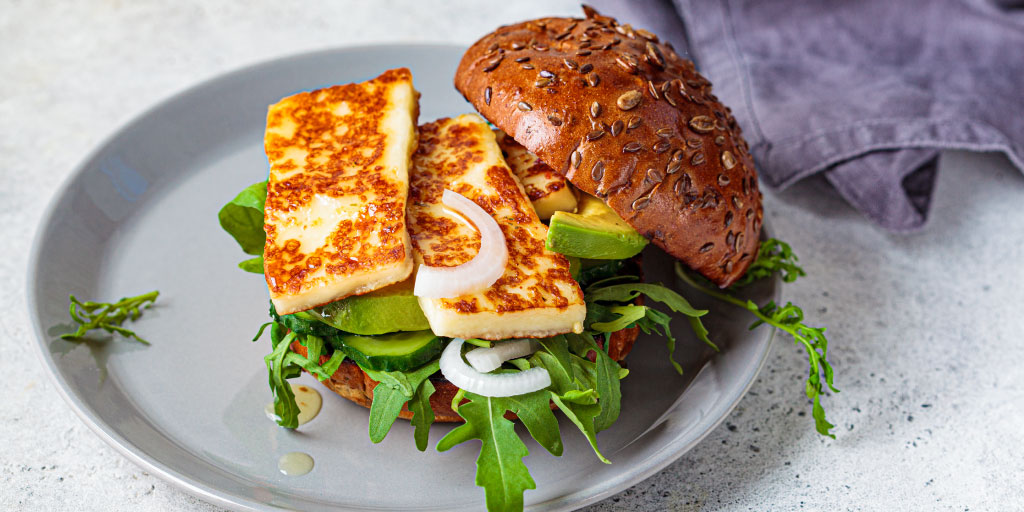 Immogen at HQ has the perfect Halloumi Burger for you to try!
Ingredients: halloumi cheese, olive oil, brioche buns, hummus, a tomato, lettuce leaves, and fresh tomato salsa.
Perfect for the BBQ. Grab your halloumi cheese, slice into 8 thick slices, and brush with olive oil. Place on the grill and cook for around 2-3 minutes on both sides, or until golden. For an added crunch, toast your brioche on the grill, then add hummus to your bun and top with halloumi, tomato, lettuce, and a dollop of salsa!
This burger is the perfect treat for a summer's afternoon, and if you've not got the BBQ out, swap for a lightly oiled pan. Roughly slice some sweet potatoes and grill for an additional crunch and burst of colour, that children can experiment with.
Eat well. Buy seasonal.
It's estimated that vegetarians and vegans save 2,500 gallons of water a year because factory farming is water-intensive. The more factory farming we do, the more our local wildlife is at risk. Nearly 50% of the UK's wildlife has been lost, so starting your vegetarian journey from the 16th of May can ensure exciting minibeast hunts for years to come!
Stretch your budget and reduce the meat you add to your weekly shopping list. Look for vegetables and fruits that are common to particular seasons. Stews and soups are hearty meals in the colder months from November to March. Through June and September, why not add a little colour to your plate with tomatoes or strawberries? These work brilliantly for fruit salads, pasta sauces, and smoothies throughout the summer!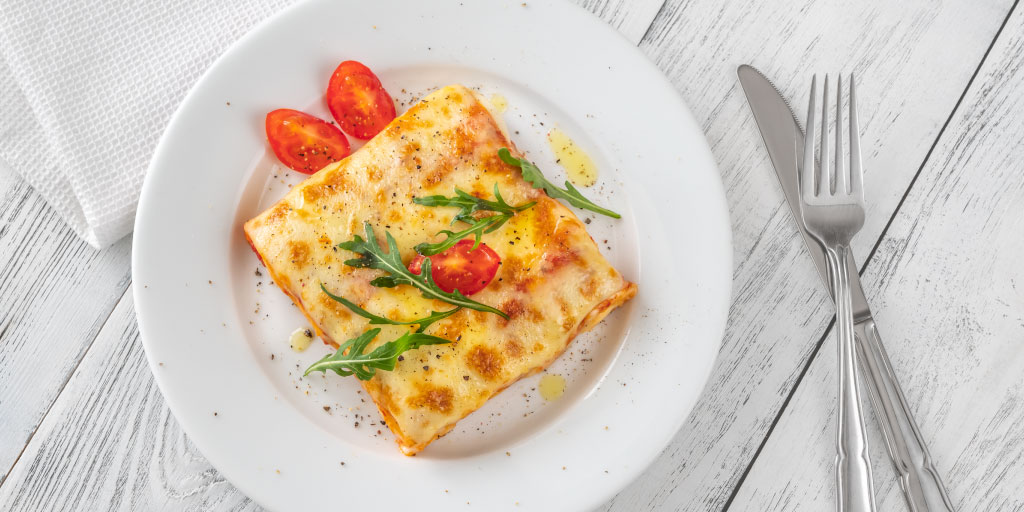 What about swapping your usual beefy lasagne for George's Vegetarian Lasagne?
Ingredients: red peppers, aubergines, olive oil, lasagne sheets, mozzarella, tomato sauce & white sauce* with a handful of cherry tomatoes. *If you want to make your own sauces, take a look at the BBC Good Food website above. You can even make some and freeze them for future meals!
Cut your peppers into chunks, slice your aubergines into slices and place them on a tray with salt, pepper, and a drizzle of olive oil. Heat your oven to 200 degrees and roast the vegetables for around 25 minutes. Once ready, layer your ingredients in a dish, alternating between white sauce, tomato sauce, lasagne sheets, and your roasted veggies. (For an added bit of sweetness, you can also add some grated carrot.)
Top your lasagne with grated cheese and your halved cherry tomatoes, and cook in the oven until bubbling and golden!
Similar to pizza, a vegetarian lasagne allows children to experiment with layering in meals. The added cherry tomatoes give it a flash of colour, and best of all, it's an easy swap because most of the ingredients are the same as traditional beef lasagne.
Cook veggie. Shop veggie.
Going veggie for a week can require lots of preparation but with a little guidance, it can be stress-free! Especially as budgets are pulled tighter, sticking to the shopping list has never been more important. Why not visit the wonky vegetable section in supermarkets like Morrisons? You can find great deals on some misshapen veggies and fruit and still get all the essential nutritional value.
Want to make your food go even further and save on prep time? Why not make larger meals and freeze or refrigerate your meals for lunch or dinner throughout the week. If you're looking to use up those extra veggies in the cooler, a stir fry is a great way to get a good dose of nutritional goodness.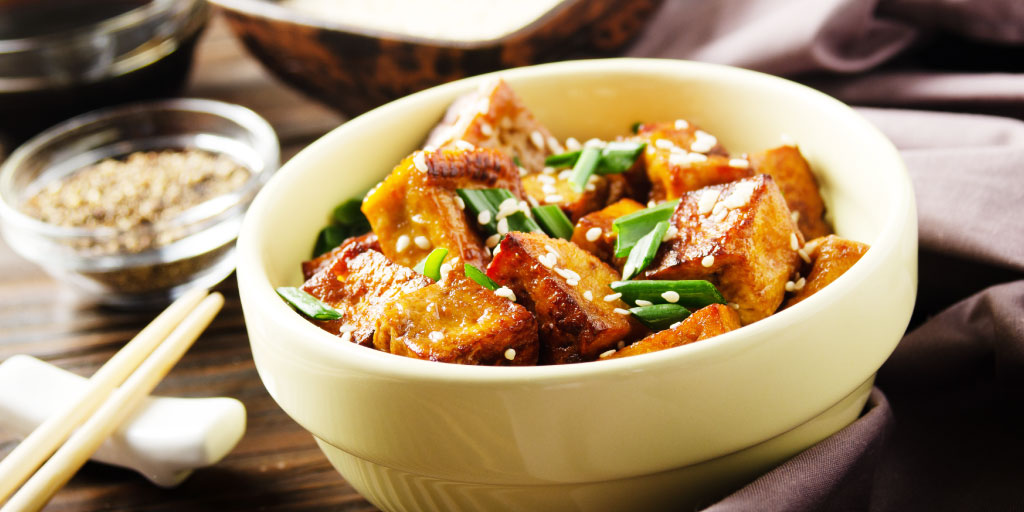 Why not try these Stir-Fried Noodles with Tofu courtesy of Jon at HQ?
Ingredients: rice noodles, tofu, sunflower oil, spring onions, fresh ginger, red pepper, mangetout, bean sprouts, tikka masala paste, soy sauce, and sweet chilli sauce.
Pour some boiling water over your rice noodles in a bowl, leave for 4 minutes, then drain and rinse under cold water. Slice your tofu into chunks, then heat some sunflower oil in a wok and stir-fry for 2-3 mins, stirring until lightly browned. Add some more sunflower oil to your wok, and add in your spring onions, ginger, pepper and mangetout. Stir fry for another minute, then add your noodles and beansprouts. Blend the curry paste, soy sauce, chilli sauce and a dash of water, then add to your wok. For extra authenticity, use chopsticks to mix it all together unit everything is well-coated in the sauce.
To serve, garnish with coriander and a squeeze of lime.
Get creative too. A stir fry can be full of colour and texture, which makes it a creative sight for your eyes as well as your taste buds!